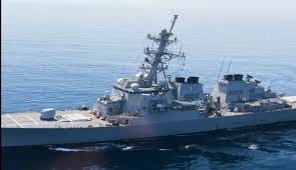 US deploys navy warships in response to China-Russia joint naval patrol near Alaska
The United States has deployed four navy warships following joint maritime patrols conducted by Russian and Chinese naval forces in close proximity to the Alaskan coast. According to a report by the Wall Street Journal (WSJ), at least 11 Russian and Chinese ships approached the Aleutian Islands in Alaska, but they never entered US territorial waters and eventually left the area. The joint patrol was closely monitored by four US destroyers and P-8 Poseidon aircraft.
Brent Sadler, a senior research fellow at the Heritage Foundation and a retired navy captain, described the situation as a "historical first" and emphasized the high level of provocation, considering the ongoing tensions surrounding the conflict in Ukraine and issues concerning Taiwan.
The US Northern Command confirmed the operation, asserting that the patrol was conducted to ensure the defense of the United States and Canada. They also clarified that the ships remained in international waters and were not perceived as a direct threat.
Alaska's Republican Senators Dan Sullivan and Lisa Murkowski expressed their concern about the incident and highlighted Alaska's crucial role in national defense and territorial sovereignty. They stated that they had been in close contact with the Alaska Command leadership and received classified briefings about the foreign vessels' transit through the Aleutians.
The Chinese embassy in Washington, DC, responded to the situation, explaining that the joint maritime patrol was part of the annual cooperation plan between China and Russia and was not targeted at the United States. The spokesperson emphasized that the action had no connection to the current international and regional situation.
This is not the first time such an incident has occurred, as the senators recalled a similar operation by Chinese and Russian navies off the coast of Alaska in 2022. Concerning that previous response, they urged senior military leaders to be prepared for a more robust reaction should such an event happen again.
In the past, there have been other encounters with Chinese navy ships in the Bering Sea and North Pacific Ocean, emphasizing Alaska's proximity to both China and Russia and the critical role the state plays in national defense.