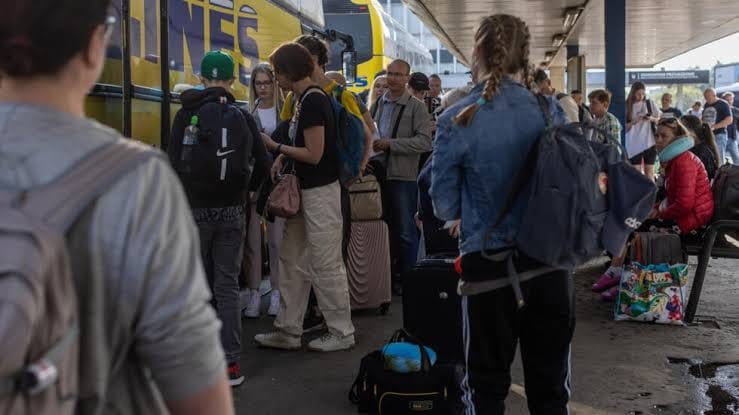 Bus offers a last way out to Belarusians fleeing repression
Lyudmila, 70, has fond memories of traveling freely to Europe from her native Belarus, before its repressive government was slapped with waves of sanctions plunging it into isolation.
Strongman Alexander Lukashenko violently put down historic anti-government demonstrations in 2020 and last year helped Russian forces invade Ukraine, sparking flight bans and border closures.
Waiting at the last open passenger crossing point to neighboring Poland, Lyudmila, who only provided her first name due to security concerns, recounted hassle-free trips, including to Spain, in the years before the unrest.
"It's all become harder of course," she said, resting on a sunny patch of grass as passengers on her bus to the Polish capital passed through border checks near Brest.
The pensioner with heavily drawn eyebrows is one of thousands of Belarusians who now rely on the route to Warsaw to exit the increasingly authoritarian country.
The closed air and rail routes point to how that link has become a lifeline for those fleeing Lukashenko's authoritarian rule — or just holidaying in Europe.
Poland has emerged as a safe haven for Belarusians since the demonstrations, and official data show they now make up the second-largest foreign nationality in the country after Ukrainians.
Even though she had grown used to flying, Lyudmila has chosen to see the positives in the longer route imposed by politics.
"I look at the countryside. I like it. (You can) relax!" she said with a smile.
Plans came 'crashing down' –
Western countries imposed the aviation ban over Belarus after Lukashenko scrambled his air force to divert a passenger jet to arrest an activist onboard in 2021. Rail links were halted during the pandemic.
"The alternative is fine, even if it's a long way and your legs go numb," said Piotr Sadko, who was chatting with his wife on the bus en route to visit their daughter in Germany.
The bus journey from Minsk to Warsaw takes around 12 hours, but there are often delays at the border.
"Naturally, if there were no political conflict, it would all be wonderful," he added.
Ilya, who has historic family links with Poland and was traveling alongside his girlfriend to the European Union for the first time, said he agreed.
The couple stayed in Belarus after the protests and watched as many friends left.
Ilya, who only gave his first name fearing his security, did not link their decision to secure year-long Polish visas to either the Ukraine war or the protests but recognized the far-reaching impact of the conflict.
"The situation in the world changed after the events of 2022," adding their plans to travel in Europe had come "crashing down" after the protests.
"A friend of ours is already waiting in Warsaw. He said, 'Guys, everything is ready, just come and we'll have dinner!'"
'Facing prison for their beliefs' –
In 2020, Poland launched expedited visas for Belarusian tech specialists, touting a "democratic, free-market economic haven".
Despite its otherwise contentious record on immigration, Poland is housing more Belarusian political refugees than any other country.
Official data show 79,030 Belarusians in the country as of this year — a three-fold increase from before the protests.
"It's important to understand that most Belarusians left their homeland, families and homes not of their own will," said 49-year-old Elena, who left in late 2021 to follow a family member worried about being targeted by security services.
"They are facing prison for their beliefs in Belarus," she told AFP by telephone, providing only her first name.
Rights activists say nearly 1,500 political prisoners are currently detained in Belarus, pointing to the very real threat of persecution.
Elena, a regular on the bus route, still returns several times a year to visit her daughter and handle administrative issues.
But that vital link home is increasingly precarious.
Belarus welcomed Wagner fighters after their short-lived mutiny against Russia's conventional army. Lukashenko has claimed they have designs to march on Warsaw.
Poland and other EU countries have warned any incident involving the private fighting force could result in the border being entirely sealed.
"If it is completely closed, life will become very, very hard for Belarusian people," Elena said.
©️ Agence France-Presse