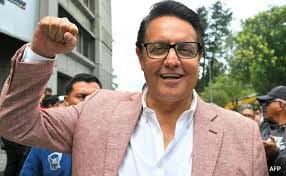 Ecuadoran presidential candidate shot dead after rally
A popular Ecuadoran presidential candidate was shot dead while leaving a rally in the nation's capital on Wednesday, prompting President Guillermo Lasso to declare a state of emergency and blame the assassination on organized crime.
Fernando Villavicencio, a 59-year-old anti-corruption crusader who had complained of receiving threats, was murdered as he was leaving a stadium in Quito after holding a campaign rally, officials said.
Lasso declared a two-month state of emergency early Thursday following the assassination, but said general elections slated for August 20 would be held as scheduled.
"Outraged and shocked by the assassination of presidential candidate Fernando Villavicencio," the president said in a statement on X, formerly known as Twitter, blaming the killing on "organized crime."
"For his memory and for his fight, I assure you that this crime will not go unpunished."
Villavicencio was the second most popular candidate in the presidential race, according to recent opinion polls.
"The Armed Forces as of this moment are mobilized throughout the national territory to guarantee the security of citizens, the tranquility of the country and the free and democratic elections of August 20," Lasso said in a YouTube address.
The president also declared three days of national mourning "to honor the memory of a patriot, of Fernando Villavicencio Valencia."
"This is a political crime that acquires a terrorist character and we do not doubt that this murder is an attempt to sabotage the electoral process," he added.
Lasso has said he will not seek re-election.
President of the National Electoral Council Diana Atamaint said "the date of the elections scheduled for August 20 remain unalterable."
Nine other people were injured in the shooting attack, including a candidate running for the national legislature and two policemen, prosecutors said.
One of the alleged attackers was shot and killed by security personnel. And police detonated an explosive device planted in the area, said chief investigator Alain Luna.
Carlos Figueroa, a friend of Villavicencio's who was with him at the time of the attack, told local media that the assailants fired around 30 shots.
"They ambushed him outside" the sports center, Figueroa said. "Some (of those present) even thought they were fireworks."
The country's main newspaper, El Universo, reported that Villavicencio was assassinated "hitman-style and with three shots to the head."
Prosecutors later said six other suspects were arrested in raids carried out in southern Quito and in a neighboring town, and that Villavicencio's body was brought to a police department and would undergo an autopsy.
'Full weight of the law' –
In recent years, Ecuador has been hit by a wave of violence linked to drug trafficking which, in the midst of the electoral process, has already led to the death of a mayor and a parliamentary candidate.
The homicide rate has doubled between 2021 and 2022.
"Organized crime has gone too far, but the full weight of the law will be applied to them," Lasso said in his post.
According to the latest polls, Villavicencio, a former journalist who wrote about corruption and served in parliament, polled at 13 percent behind lawyer Luisa Gonzalez, who is close to former left-wing president Rafael Correa.
Gonzalez and other presidential candidates denounced the murder and said they were suspending their campaigns, local media reported.
"We will never allow such acts to go unpunished. When they touch one, they touch all. When one's life is at risk, everyone's life is at risk," Gonzalez wrote on X.
National Court of Justice president Ivan Saquicela called Villavicencio's murder "very painful for the country."
"I am very hurt and very worried about Ecuador," he said.
The United States, Spain, Chile and the Organization of American States observer mission have also condemned the crime.
"We are horrified by the tragic attack… Violence cannot win. Democracy can," European Union ambassador to Ecuador Charles-Michel Geurts said on X.
As a journalist, Villavicencio uncovered a corruption scheme for which former president Correa (2007-2017) was sentenced to eight years in prison.
Villavicencio later served as president of the legislative oversight commission, where he continued to denounce corruption.
The politician had complained this month that he and his team were receiving threats allegedly coming from the leader of a criminal gang linked to drug trafficking.
"Despite the new threats, we will continue fighting for the brave people of our #Ecuador," he posted on X at the time.
Atamaint, head of the electoral council, also said that several members of her organization, which is responsible for supervising the ballot, had received death threats.
President Lasso sent a message to Villavicencio's family.
"My solidarity and my condolences with his wife and his daughters," he said in his post.
©️ Agence France-Presse