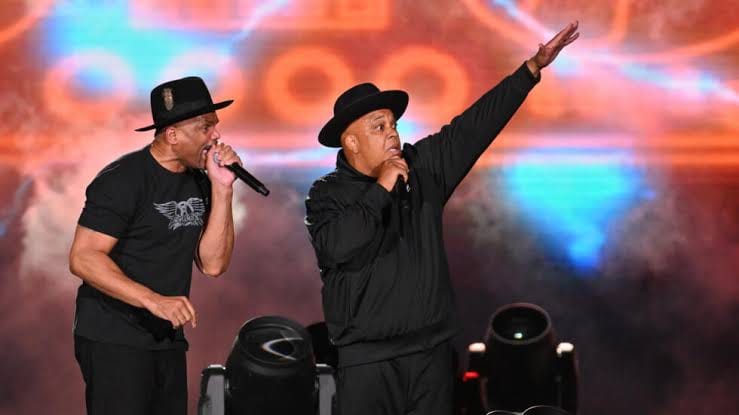 Nas, Run-DMC, Snoop helm marathon birthday party for hip-hop
Thousands of people partied deep into the night Friday as part of an all-star Bronx bash celebrating 50 years of hip-hop, featuring trailblazers including Run-DMC, Nas, Lauryn Hill and Snoop Dogg.
The pops were on lock and the joy absolute at a packed Yankee Stadium, where New Yorkers and tourists alike commemorated five decades of the music whose vast influence irrevocably shook the culture.
"I didn't know how monumental it was gonna be growing up," said Kiesha Astwood, 50, who, like hip-hop, was born in 1973 and on Sedgwick Avenue in the Bronx.
It was there that DJ Kool Herc's younger sister Cindy threw a back-to-school party in the rec room of a high-rise apartment building, and the DJ spun the same record twice, into the first documented breakbeat.
"It's very invigorating," Astwood told AFP moments after Kool Herc received accolades for his role in birthing the genre. "Here we are 50 years later."
None other than Run-DMC — one of hip-hop's most influential acts — headlined the evening, playing hits including the beloved "It's Tricky," which had the arena crowd screaming along despite the post-1:00 a.m. start time.
Prior to that performance Nas, the mammoth concert's ringleader, played a string of songs off his seminal album "Illmatic," including "The World Is Yours" and "N.Y. State of Mind."
The crowd roared when the New York icon closed his set by inviting fellow legend Lauryn Hill onstage to sing the track they collaborated on "If I Ruled the World (Imagine That)" as well as her own smash single "Doo Wop (That Thing)" and her rendition of "Killing Me Softly," that she originally performed as part of The Fugees.
That was preceded by none other than Snoop Dogg, who also played fan favorites including "The Next Episode," "Nuthin' But A 'G' Thang" and "Gin And Juice."
The 51-year-old G-funk pioneer wore heart-shaped glasses and lit up onstage, as is his custom, vibing to his own legend as remarkably agile pole dancers harmonized alongside.
Lil Wayne was also among the performers smoking weed, whose scent hung heavy in the summer air.
The trap artist from Louisiana was a showstopper as he bounded across the stage, giving hit after hit including "A Milli" and "Lollipop" before thanking his adoring fans and walking off to Whitney Houston's "I Will Always Love You."
Antoine Crossley had traveled all the way from Chicago to catch the history-spanning show, which began with hip-hop's founding fathers including Melle Mel and Scorpio along with Grandmaster Caz.
"I think hip-hop is something that really has brought a voice to people that originally didn't have a voice," he told AFP as he filed into the stadium.
"It speaks to me. I think growing up, it was something that was always special to me. So we were willing to make that trip and make it happen."
The marathon concert was the crown jewel of celebrations that have reverberated throughout the city to commemorate the 50th anniversary.
Clocking in at more than eight hours long, it also included performances from The Sugarhill Gang, members of the Wu-Tang Clan and Ice Cube.
For some critics and fans, pinpointing a date to mark the development of a style of music — which was rumbling well before August 11, 1973 — seems arbitrary.
But perhaps no type of music has deserved a reason to celebrate more.
Hip-hop was for decades maligned, ignored and censored by the industry it eventually shaped in profound ways, in a country where rappers have churned out massive pop hits and heavily impacted everything from music to fashion, language to dance.
The quintessentially Black American art form has traveled from block parties in the Bronx to every corner of the globe; these days, most countries host a regional hip-hop scene of their own.
Speaking near the concessions Julio Casado, 42, said "I love to travel, and I kind of have a competition with hip-hop."
"I try to visit places where hip-hop hasn't been to yet. But the reality is, hip-hop has been all over, and hip-hop's actually got me beat."
Everyone from children to grandparents danced, cheered, and illuminated the 46,000-capacity baseball venue with their phones.
But there was no shortage of jokes referencing that fans were aging right along with hip-hop itself.
"Everyone sitting is over thirty, we got some knees hurting out there," joked one emcee.
The fans who had the endurance to stay to the end got to see Nas bring Kool Herc back onstage for another round of thanks: "This is our love, our bloodline," Nas said.
"I'm fifty years old with hip-hop this year," Nas said. "Hip-hop was born for you and me, and this is where we supposed to be."
"In N-Y-C."
©️ Agence France-Presse