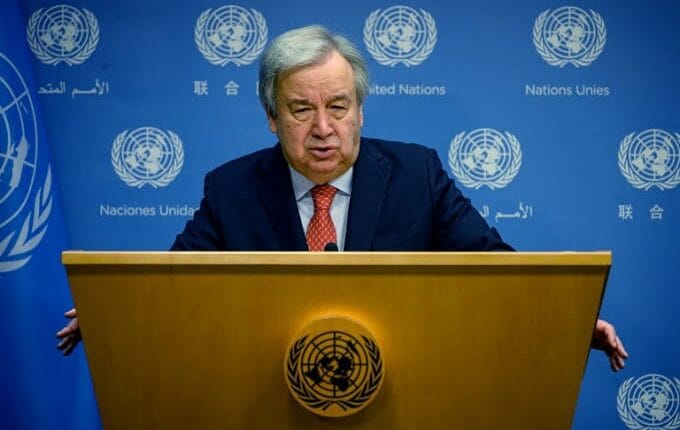 UN mission in DR Congo entering 'final phase': Guterres
UN Secretary-General Antonio Guterres has said the body's mission in the Democratic Republic of Congo is entering its "final phase", but warned the situation in the conflict-hit country has "deteriorated sharply".
In a report addressed to the UN Security Council, Guterres delivered a stark assessment of the turmoil in the DRC and set out a plan for the "accelerated and responsible withdrawal" of the UN's MONUSCO mission after almost 25 years in the country.
The 15-page document published on Thursday pointed to heightened regional tensions and a worsening humanitarian situation over the last year, with "hundreds of thousands of civilians being forcibly displaced".
"Sexual violence against children more than doubled from 2021 to 2022," the report added.
It said that in the eastern provinces of North Kivu and Ituri, the two areas worst affected by the violence, 28 and 39 percent of the population are displaced respectively — around four million people.
At the heart of these conflicts is the resurgence of the M23 rebel group, which has "seized large swathes" of territory, it said.
The rebels have "established parallel, illegal administrations" and carried out "arbitrary arrests and extrajudicial executions", the report said.
The document made no mention of Rwandan troops being present alongside the M23 on Congolese soil, contrary to recent reports by the UN Group of Experts on the DRC that led many countries to condemn Rwanda for its involvement in the conflict.
The final departure of the UN mission has been at the heart of debates on the DRC's future for years, and is a source of tension and populist rhetoric in the country.
"MONUSCO continues to be a focus of popular discontent and frustration over its perceived inaction," Guterres said.
In line with the stated wishes of the DRC's government, the UN reaffirmed its willingness to pull MONUSCO out, but warned "a premature withdrawal… would have consequences for the civilians relying on the Mission for their protection and safety".
In September 2022, Congolese President Felix Tshisekedi told France 24 he believed there would be no reason for MONUSCO to remain beyond the December 2023 presidential election, when he is standing for re-election.
©️ Agence France-Presse