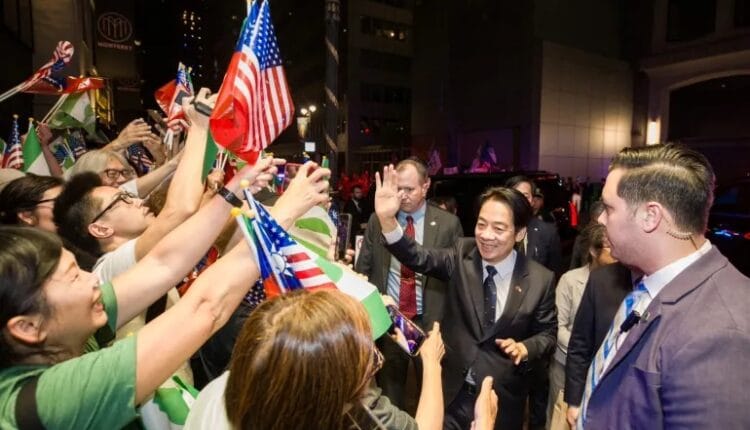 China issues warning as Taiwanese Vice President arrives in US
China has issued a stern warning and promised "forceful measures" in response to the arrival of Taiwanese Vice President William Lai in the United States. Lai's visit to New York, en route to Paraguay for an inauguration ceremony, has raised tensions between China and Taiwan.
"Lai, who is seen as a leading candidate for Taiwan's upcoming presidential elections, plans to make a brief stop in San Francisco on his return journey. China, which considers Taiwan its own territory, has consistently condemned such visits".
"China's foreign ministry released a statement expressing opposition to visits by "Taiwan independence separatists" to the US. They labeled Lai as a "troublemaker" who supports Taiwan's independence and accused him of relying on the US for support in seeking independence".
"Taiwan's status has long been a point of contention between China and the US. Lai's trip is seen as an attempt to reinforce Taiwan's distinct identity, a move that China vehemently opposes. The Taiwan Strait has seen increased tensions due to Taiwan's efforts to seek international support, particularly from the US".
"Lai, known for his vocal stance on Taiwan's independence, has described himself as a "pragmatic Taiwan independence worker." He emphasized that Taiwan is not a part of the People's Republic of China (PRC) and that the Republic of China and PRC are distinct entities".
"Upon his arrival in New York, Lai expressed excitement to be in a city symbolizing liberty and democracy. He acknowledged being greeted by representatives of the American Institute in Taiwan, which serves as Taiwan's de facto embassy in the US. Lai's visit is intended to remain low-key, in line with the shared position of Taipei and Washington to manage risks amid increased tensions".
"Experts suggest that China may use Lai's US stopovers as an opportunity to intimidate Taiwanese voters ahead of the upcoming elections. The People's Liberation Army Eastern Theatre Command released a video showcasing fighter jet drills, underlining their commitment to military readiness in the region".
"The timing of Lai's visit coincides with efforts to improve relations between China and the US. Chinese Foreign Minister Wang Yi's potential visit to Washington could pave the way for a meeting between US President Joe Biden and China's leader Xi Jinping later this year. China's increased military activities around Taiwan reflect its persistent efforts to assert sovereignty over the region".
"This development follows China's military exercises near Taiwan earlier this year, sparked by Taiwan President Tsai Ing-wen's meeting with US House Speaker Kevin McCarthy. As Taiwan seeks global recognition and support, tensions between the island and mainland China continue to escalate".