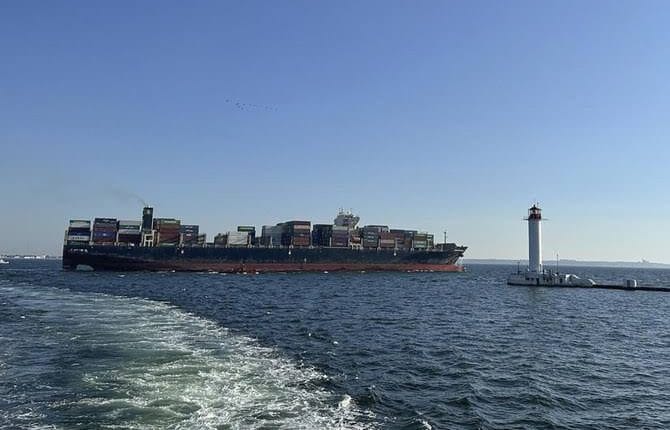 Ship from Ukraine port nears Turkey despite Russian blockade
A civilian cargo vessel sailing from Ukraine in defiance of a Russian blockade was hugging the coast of Bulgaria on Thursday on its way to Turkey, marine traffic monitors said.
The Hong Kong-flagged Joseph Schulte left the Ukrainian port of Odesa on Wednesday morning — the first vessel to sail since Russia attacked another ship in the Black Sea over the weekend.
A German company that co-owns the container vessel said it would "probably" reach its destination in Istanbul later Thursday.
Ukrainian President Volodymyr Zelensky said the ship was using a "new humanitarian corridor" that Kyiv established after Russia last month scuppered a landmark agreement allowing Ukraine to export grain and foodstuffs across the Black Sea.
The Joseph Schulte's mission came just days after Russian military personnel fired warning shots and boarded a small Turkish-crewed cargo vessel that was traveling to the Ukrainian port of Izmail.
Russia has stepped up attacks on Ukrainian Black Sea and Danube River port infrastructure since pulling out of the UN and Turkey-mediated grain deal.
Ukraine's Infrastructure Minister Oleksandr Kubrakov said the new sea route "will be primarily used to evacuate ships that were in ports at the time of the full-scale invasion of the Russia" in February of last year.
But Ukraine's decision to challenge Russia over sea access comes with world attention focusing on ways to secure grain export routes in time for this autumn's harvest.
Ukraine and Russia are major exporters of grain and seed oil.
Last year's grain agreement helped push down global food prices and provide Ukraine with an important source of revenue to fight the war.
Ukraine is now using the Danube River to ship out its grain.
Much of that traffic flows down the river and ends up reaching the Black Sea at Ukraine's border with Romania.
The Wall Street Journal reported that US officials are holding talks with Turkey and both Ukraine and its neighbors about increasing traffic along the Danube route.
An unnamed US official told the paper that Washington is "going to look at everything" — including the possibility of military support for the Ukrainian ships.
But a Turkish defence official appeared to push back against Washington's initiative on Thursday.
"Our efforts are focused on making the grain corridor deal active again," the unnamed defence official told Turkey's NTV television.
"We are not working on other solutions."
Turkish President Recep Tayyip Erdogan hopes to meet Russian counterpart Vladimir Putin later this month for talks focused on the Black Sea.
Erdogan has tried to maintain neutrality and raise Turkey's diplomatic profile during the war.
Turkey hosted two early rounds of Ukraine peace talks and stepped up its trade with Russia while supplying Kyiv with arms.
©️ Agence France-Presse