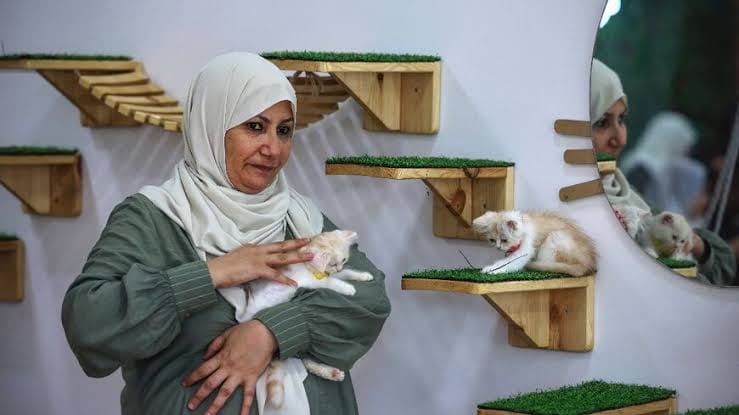 Cat cafe brings 'pawsitivity' to war-scarred Gaza
A cat cafe in the Gaza Strip aims to "cheer up" Palestinian residents and offer them a respite from the trials of daily life in the blockaded territory, its owner said.
At the Meow Cat Cafe which opened this week in Gaza City, owner Nehma Maabad set out food for a clowder of kittens.
"Cats, for me, are a refuge that relieves me of psychological stress. So I thought of creating a project that combines serving people with something to cheer them up," said the 50-year-old.
Part of the space is kitted out with wooden platforms covered in astroturf for the cats to clamber onto, while feline murals and portraits adorn the walls.
Meow is part of a growing global trend of cat cafes, but the circumstances in Gaza are unique.
The territory has been under a crippling Israeli blockade since 2007 and scars of repeated wars fought between Palestinian militants and Israel are visible across the city.
Customers pay nearly 10 shekels ($2.65) per hour to play with the cats, which Maabad said covers their food as well as costly vet bills.
Visiting the cafe, Manar Abu Samra said it was reasonably priced and she had told her friends and sisters about the new venture.
"The quality of cats here is beautiful and sweet, so it's a wonderful idea — despite its strangeness to society — and when I heard about it I felt happy," she said.
Pets are rare in Gaza although cats are ever-present, particularly around the port or fishmongers as they try to paw away some scraps.
Maabad said she had cats at home to bring to Meow, while others came from friends.
"The idea of the cafe was to have something nice with a cup of coffee," she said.
"A cat that you play with and it makes you smile and forget the pressures of life."
©️ Agence France-Presse