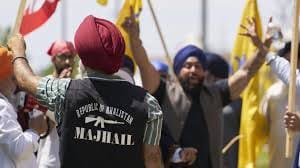 Khalistan: India's Sikh separatist movement in diplomatic storm
Canada has accused India of involvement in the killing of a separatist Sikh leader on its soil — a charge denied by New Delhi as "absurd".
Hardeep Singh Nijjar, who was slain near Vancouver in June, was an activist campaigning for the establishment of "Khalistan", an independent Sikh homeland in India.
The Khalistan campaign dates back to India's independence and has been blamed for the assassination of a prime minister and the bombing of a passenger jet.
It has also been a sore point between India and several Western nations home to large Sikh populations, with New Delhi demanding Canada and others take stricter action against separatists.
Here is what we know about the Khalistan movement:
What is the Khalistan movement? –
Sikhism is a minority religion originating in northern India that traces its roots back to the 15th century and drew influences from both Hinduism and Islam.
Its adherents make up less than two percent of India's 1.4 billion people but Sikhs are nearly 60 percent of the population in the northern state of Punjab, the faith's heartland.
The Indian subcontinent won independence in 1947 as it was suffering through the blood-soaked Partition that divided the former British colony along religious lines.
Muslims fled to the newly formed nation of Pakistan while Hindus and Sikhs fled to India in the ensuing violence, which killed at least one million people.
The historical region of Punjab was split between the two countries and was wracked by some of the worst violence of Partition.
Since then, some Sikhs have called for the creation of "Khalistan", a separate sovereign nation and "land of the pure" carved out of Punjab and governed by the faith's precepts.
Those calls grew louder in subsequent decades as Punjab became one of the wealthiest states in India, owing to an agricultural revolution that dramatically lifted farm yields.
Why is the Khalistan movement infamous? –
The campaign was largely considered a benign fringe movement until the early 1980s, when a charismatic Sikh fundamentalist launched a violent separatist insurgency.
Jarnail Singh Bhindranwale and his followers murdered scores of Sikh political opponents and Hindu civilians in the name of establishing Khalistan.
In 1984, they began stockpiling arms and barricading themselves in the Golden Temple, the faith's holiest shrine in the city of Amritsar.
Bhindranwale, his top lieutenants and hundreds of Sikh civilians were killed when the government stormed the site that June, also resulting in extensive damage to the temple.
The army's action, codenamed Operation Blue Star, outraged Sikhs around the world who accused the troops of religious desecration.
Prime minister Indira Gandhi was shot dead later that year while walking through her garden, in an act of vengeance by two Sikh soldiers on her bodyguard detail.
Her assassination triggered a spasm of violence that saw thousands of Sikhs killed in New Delhi and other parts of the country in brutal reprisals.
Gandhi's assassins were later hailed as martyrs by Sikh leaders and their painted portraits adorn the museum at the Golden Temple.
Why does the government still consider it a threat? –
The insurgency was eventually brought under control but violence continued in Punjab for another decade after the storming of the Golden Temple.
Supporters of the Khalistan campaign have also been accused of terror attacks outside of India's borders.
Canada-based Sikh extremists were accused of carrying out the 1985 bombing of an Air India flight, killing 329 people.
Memories of the insurgency still haunt India, which has outlawed the Khalistan movement and listed several associated groups as "terrorist organizations".
Since the insurgency ended, displays of support for the Khalistan movement in Punjab are rare and have been quickly clamped down upon by authorities.
Indian police in April arrested firebrand Sikh leader Amritpal Singh, who had returned to Punjab from abroad the previous year and begun preaching for a separate Sikh homeland.
Singh was caught after leading authorities on a weekslong manhunt that saw mobile internet cut off for days in the state, home to 30 million people.
Who supports the movement? –
The Khalistan movement's main vocal advocates are these days primarily among the large Sikh diaspora, particularly in Canada, Britain and Australia.
Fringe Sikh groups periodically hold referendums to endorse the establishment of a Sikh homeland in India.
India has often complained to foreign governments about the activities of Sikh hardliners who, it says, are trying to revive the insurgency.
Earlier this year, Indian consulates in Britain and the United States were vandalized by Khalistan supporters.
India's foreign ministry criticized Canada in June for allowing a float in a parade depicting Gandhi's assassination by her bodyguards.
by Abhaya SRIVASTAVA
©️ Agence France-Presse