Where did you find your foothold into the arts community? Why is it important for artists to persist in spite of the obstacles in the contemporary world?
I first found my foothold through establishing Quail Bell Magazine as an undergraduate at VCUarts. That led to me searching for community online via Craigslist and in person in Richmond, VA. So many magical collaborative opportunities and chances for public presentation arose from there. The Richmond 'Zine Festival was an annual favorite, but I still made the trek to New York City for even bigger events like the Brooklyn 'Zine Festival. While Richmond was fun and welcoming in a lot of ways, I never quite felt at home there. Something inside of me always hungered for someplace bigger and more cosmopolitan. It could be because my father is a New Yorker, my mother is an immigrant, and I grew up in the very international Washington, D.C. region. I'm sure it has something to do with my natural curiosity and work ethic, as well. I returned to the D.C. area briefly after college and hunted for like-minded people at organizations like Artomatic, Teatro de la Luna, and the Annapolis Fringe Festival. I found more of a kinship with Baltimore's arts scene, but, with a day job in journalism, I felt confident that I could make a living in New York City. So as much as I adored Baltimore, I decided not to move there from Northern Virginia. Instead, I followed my heart's desire, which brought me to Brooklyn—briefly Bushwick, followed by Crown Heights.
When I moved to New York City, I already had an "in" with some powerful, dynamic groups because of Quail Bell's influence. I credit the Binders Full of Women Writers, the New York City Poetry Festival, and GAMBA Forest as some early supporters. A year into my time here, I applied to the MFA DIAP program at The City College of New York. Once I was accepted, I went to Maryland for the summer to do an artist residency at Annmarie Sculpture Garden. This was a turning point in my confidence and determination as an artist. I flourished at Annmarie, creating sculptures, writing books, editing photos and short films. Then I came to CCNY and the marathon began. CCNY opened up my imagination and challenged me more than I could ever hope for. Professor after professor showed me how to be an independent fine artist and writer living in New York City. The encouragement I received was incredible. When I graduated, I had a flurry of artist residencies, literary engagements, and theatre gigs that immediately took up my time. Fall 2019 was electrifying. Then the pandemic hit and I leaned into my online communities. I knew I had circles of people who cared about me and my work. That kept me going, despite the fear of the unknown we all faced during quarantine.
It's important to persist in spite of obstacles as an artist because our pursuit of beauty, poetics, and humor matters. Artists see the world differently; we challenge dominant views and imagine new possibilities. We pause. We question. We express our vulnerabilities and our cynicism. This is why it's so hard to be an artist. We don't think like most people. We don't fit in. But without our voice, the world is blander, tougher, sadder. Through our work, we offer moments of relief.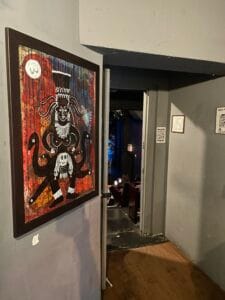 Tell us about your work ethic. How did it develop and do you have advice for others who want to work smarter?
My father is a small business owner, a freelancer in the highly competitive news and documentary sphere. My mother is an immigrant who lived during her home country's brutal civil war. Both of them taught me very practical ways to survive and made me aware of the importance of being able to take care of myself. My mother especially wanted this for me as a woman. Honestly, a lot of guilt and pressure led to me developing my work ethic, but there's clearly an upside: I am not afraid to take my shot, to be resourceful, to plan and think strategically. I am better at asking for help than I used to be. That is my biggest advice: Look for support and don't be afraid to take it. You need collaborators, advocates, and patrons. My second biggest bit: Prioritize. Spend your time doing what you want to do and do well as much as possible. Outsource what you can. Delegate.
I remember when you first introduced "Art Bitch" through YouTube. Can you tell us how it evolved into the form it is in today?
I introduced Art Bitch to YouTube very quietly in Fall 2019. It was an experiment. I was so frustrated with very privileged, entitled trust fund types dominating the New York art scene. I wanted to create a character who came from this kind of background, had zero work ethic, and was clueless about it. Someone who was more interested in being seen as an artist than actually making art. I was hoping to bring this comedy act to a live audience in 2020, but the pandemic derailed that idea. Fast forward to early 2023. I had my foothold in live theatre again. When I saw The People Improv's Theater's call for solo shows, I pitched Art Bitch. In March 2023, I did a half-hour long solo show as my Art Bitch character. It went over very well. Shortly thereafter, I began making TikTok and Instagram videos and memes in Art Bitch's character and pitching more live shows, including ones with full casts. You can follow along at @artbitch100 on both platforms. Plans to shoot Art Bitch videos beyond social media ones are in the works.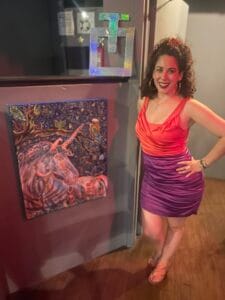 What would you count as the most priceless moment in this busiest of years for you?
I honestly wouldn't consider this my busiest year. Every year has been busy. I have thrown myself into my work every year. I consider this the year that I'm collecting more "brand names" and earning a new level of recognition. The biggest "get" was Brooklyn Magazine naming me one of its Top 50 Most Fascinating People. Seeing it online and then on print and later in a plaque was a symphony of a surreal moments. Yet there have been so many other moments of beauty and joy this year.
Right now, I'm pursuing my MA in Oral History at Columbia University, while participating in the BMI Lehman Engel Musical Theatre Workshop. Walking onto the Columbia campus for the first time as an enrolled student brought tears to my eyes. Stepping into the BMI offices for the first time took my breath away. I earned those moments and still couldn't believe they were happening. My drama "Mi Abuela, Queen of Nightmares" had its premiere at The Tank theatre in Midtown in September, after being published as a standalone book back in April. You can bet that I was nearly crying with gratitude on opening night. As of August, my talk show, "Badass Lady-Folk," made the leap from audio-only to TV and now airs on the Manhattan Neighborhood Network. I almost peed during the first episode recording because I was just that ecstatic. My drama "Heartbreak in Tompkins Square Park" had a reading at the Rogue Theater Festival at Theatre Row and is under consideration by other competitions now. The whole day leading up to the reading felt like one big anxiety attack. Then it happened and I was floating on air. I workshopped my performance art piece "Cleansing/Limpia" at Irondale Center and the Kraine Theatre. These were the kinds of pieces I had dreamt of doing as a little undergrad in Richmond. Art Bitch had a slew of live shows, each one wilder than the next. I never got over the compliments after each show. Thanks to my distributor, my feature film "Sirena's Gallery" finally locked down its deals with streaming platforms and is coming to Amazon, Hoopla, Plex, Tubi, etc. A couple of my short films, such as "Uncontested" and "Naomi and The Reckoning," made it into festivals. One of them—"De Colores (Chorus of Melancholy)"—even won an award at the Latino Film Market. All of these recognitions made up for any frustration during production or editing. I was selected for the Arts By the People Ekphrastic Writing Residency at the Reeves Reed Arboretum in New Jersey and the anthology from that experience is due out at the end of October. The residency was a balm for a busy early summer. My partner Aaron Gold and I began creating the first couple TV episodes of his comedy podcast "Don't Mind If I Don't." Working with him in this way has brought us closer together. I also feel myself giving myself permission to dream even bigger because of the ways he believes in me.
I could go on. This year has been the stuff of dreams. I am so happy and fulfilled and excited to see where my journey takes me next.
What future plans do you have for your productions? 
There are so many productions and so many plans! Three things I feel comfortable saying publicly: 1) I am submitting the filmed version of "Mi Abuela, Queen of Nightmares" and hoping for a distributor soon. 2) Episodes of "Badass Lady-Folk" are only going to increase in visibility and production value. 3) Get ready for a lot more filmed Art Bitch stuff.