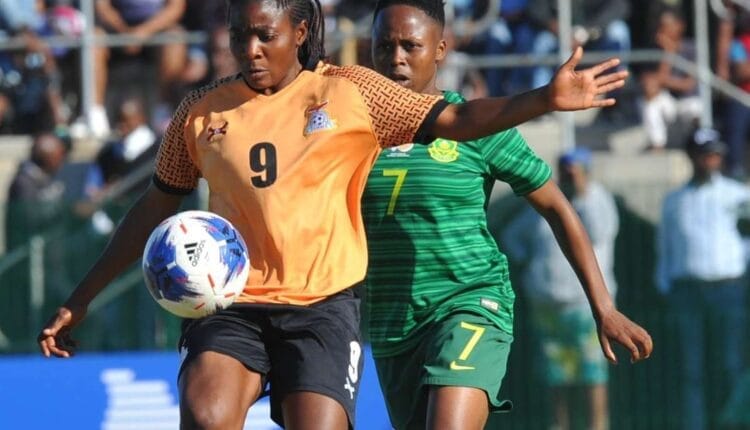 Zambia's star players leave for Spain to unite with Zaragoza
Hellen Mubanga and Racheal Nachula, Zambian International players, have parted with their respective teams.
While disclosing this on on Friday September 11, 2020, the player ls stated that they resigned to join Zaragoza club in Spain after the club completed their signing in August.
Mubanga of Zambia Women's Premier League's Red Arrows and Nachula of Green Buffaloes are making their first professional move becoming the third and fourth Africans after Hanane Ait El-Haj of Morocco and Peace Efih from Nigeria to be signed by the Spanish club.
The two Copper Queens star players become the latest players to find their way abroad following Misozi Zulu and Rachael Kundananji who are both of BIIK Kazygurt and Barbra Banda of Shanghai.
The duo, who finally left for Spain on Friday, a week after they had their flight canceled, gave their brilliant performance that qualified their team to the Tokyo 2020 Olympic Games after a 2-1 home win over Cameroon at Nkoloma Stadium.
Mubanga of Red Arrows, before leaving Zambia expressed great delight to join Zaragoza to kick start her career.
"I am excited to start my career at Zaragoza and promise to put in my best to make my country proud and also my new club.
"I am going there with Racheal is good for Zambian football because it will open doors for more players to play in Europe," said Mubanga.
"On my part, I will continue working hard and being determined because I believe the sky is not even the limit," she added.
The duo would be joining Zaragoza club training which has started already in August. They are expected to put up their brilliant performance at the Spanish club to get their new team to the top of the 2020/2021 season games.