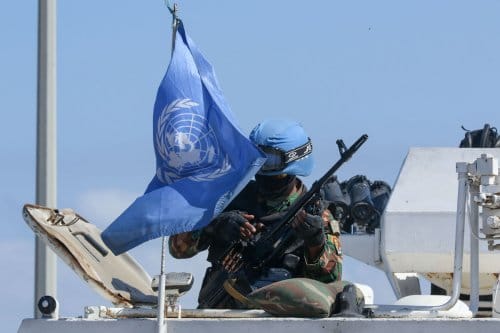 Lebanon, Israel conclude first round of demarcation talks
The governments of Lebanon and Israel have concluded the first round of indirect talks over the demarcation of their disputed maritime borders.
The talks which ended on Thursday October 15, 2020, was held at the headquarters of the UN Interim Force in Lebanon (UNIFIL).
The Naqoura region in southern Lebanon around the building faced tight security imposed by the Lebanese army and UNIFIL soldiers.
Lebanese state media reported that the first round of talks lasted for just an hour. Agreement was reached on holding the second round on 28 October, 2020.
The Lebanese negotiating team was headed by Brigadier General Bassam Yassin. The Israelis included the Director-General of the Energy Ministry, Udi Adiri, in their team.
"We hope that the other parties will respect their obligations based on achieving the requirements of international law and maintaining the confidentiality of the deliberations," said Yassin.
"We are looking for the negotiation wheels to turn at a pace that enables us to conclude this issue within a reasonable time," he added.