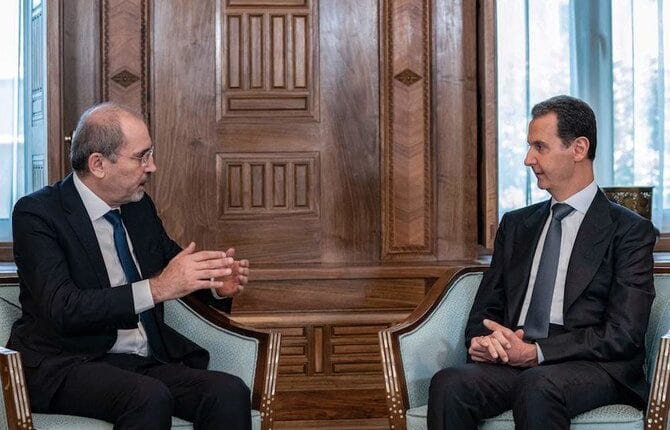 Jordan foreign minister, Assad discuss Syria refugees, drug smuggling
Syrian President Bashar al-Assad and Jordan's top diplomat Ayman Safadi met Monday in Damascus and discussed war refugees and a crackdown on cross-border drug smuggling, Amman's foreign ministry said.
Safadi's visit comes at a time of increasing regional engagement with the Assad regime, peaking with Damascus's return to the Arab League after years of isolation since Syria's war began in 2011.
The meeting "focused on the issue of refugee returns and the necessary measures to facilitate the voluntary return" of Syrian refugees from Jordan, the foreign ministry said in a statement.
Assad and Safadi also discussed "humanitarian, security and political" steps towards a "comprehensive solution" to Syria's crisis, it added.
Syria was suspended from the Arab League in 2011 over Assad's brutal crackdown on pro-democracy protests which spiraled into a conflict that has killed more than 500,000 people and displaced millions.
In May, the pan-Arab body readmitted Damascus, despite no political settlement to the conflict in sight.
Arab states hope to find a solution for the millions of Syrian refugees living in neighboring countries, including 1.3 million in Jordan.
Several Arab countries are also seeking increased security cooperation with Syria, which has turned into a narco-state with a roaring illegal trade in the stimulant drug captagon.
The Jordanian statement said Safadi discussed with Assad "the dangers posed by drug smuggling across the Syrian border into the kingdom, and the need for cooperation to confront it".
During his visit, Jordan's foreign minister also met with his Syrian counterpart, Faisal Mekdad.
The two discussed a "joint committee to combat drug smuggling" that would meet in Amman "as soon as possible", the Jordanian foreign ministry said.
Jordanian security forces have tightened border controls in recent years and occasionally announce thwarted drugs and weapons smuggling attempts from Syria.
©️ Agence France-Presse