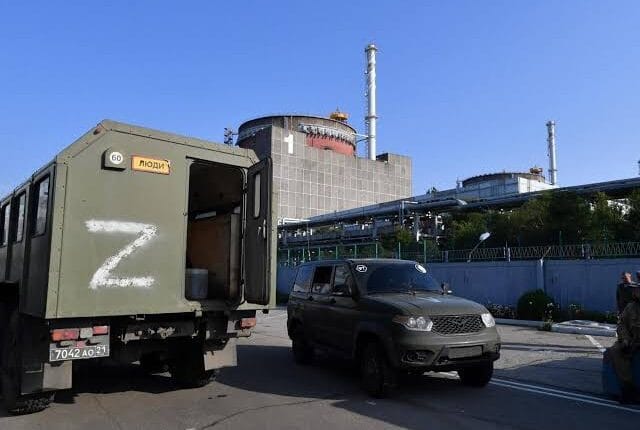 Drills, red wine: Ukrainians ready for leak at Russia-held plant
In the southern Ukrainian city of Zaporizhzhia, couples stroll in a popular park and parents push their children on swings on a hot summer day.
There are few visible signs of panic in the city but locals say they know what to do in case of a possible incident at a nearby nuclear plant. Some say they have stocked up on food and water, and others have even bought masks and protective clothing.
"For the past year and a half we have been expecting the worst," said Yevgenyia Chuksina, a local resident.
"The war has taught us that Russians are capable of anything," said the 43-year-old journalist on maternity leave.
In recent days, Ukrainian authorities have ramped up warnings that Russia is planning to blow up the Zaporizhzhia Nuclear Power Plant, Europe's largest.
Located in Energodar around 50 kilometers (30 miles) southwest of the city of Zaporizhzhia, the plant has been under Russian control since the first days of Moscow's invasion.
Kyiv says Russia has placed explosives at the plant and Ukrainian President Volodymyr Zelensky has urged the international community to intervene. UN observers appealed on Wednesday for greater access to the plant.
Authorities in the city, which had a pre-war population of around 750,000 people, said they were readying in case of a radiation leak.
"It's a major threat," Olena Zhuk, the head of Zaporizhzhia's regional council, told AFP. "People are preparing, the government is preparing".
Officials said that locals have also stocked up on red wine which is believed to help defend against radiation exposure.
"It can be useful," Zhuk said.
Memories of the Chernobyl disaster that hit Ukraine in 1986 still haunt the war-torn country.
At the end of June, city authorities held drills to simulate the mass evacuation of 138,000 people living within 50 kilometers of the plant.
That would be "the worst case scenario," Zhuk said.
Strolling with his companion in a park near the Dnipro River Danylo, a 27-year-old entrepreneur, said he was constantly monitoring the situation.
"We've made some preparations," he said.
"We've bought protective suits, masks, and shoe covers just in case. And we are closely monitoring news."
Zhuk, the head of the regional council, said that authorities would initiate various responses depending on the "type" of incident at the plant, adding potential fallout could be "local, very local or not local".
She said she believed Russia might stage an incident if Kyiv's forces advanced to the area in their counteroffensive.
"I personally think that the accident will be local," she said.
She said that Russians did not need to do anything "spectacular".
"They need to take pictures of the burning nuclear power plant to justify their departure" if Kyiv troops advance, she said.
In Russia, authorities have claimed Kyiv is plotting an act of "sabotage."
Kyiv has since early June gone on the offensive in several parts of the front, including to the east of the power plant.
Ukraine's health ministry has issued a statement to follow evacuation orders "in case of an explosion."
It said residents most exposed to the radiation threat could be informed of evacuation points.
Iryna said she and her husband have stocked up on supplies.
"There is water at home, and there is food," the 52-year-old real estate agent said.
"If this happens, we will seal all windows and doors shut," she said.
Authorities set up stands to distribute leaflets about the dangers of mines but also the emergency response to any nuclear incident.
Many are hopeful that international pressure will help de-escalate the situation.
On Thursday, the Ukrainian military said tensions had "decreased" at the plant thanks to the armed forces and foreign-aided diplomatic efforts.
Lyubov Kovalenko, who fled the city of Energodar last September, said Russians would not dare to blow up the plant.
"They scare us and that's all," said the 69-year-old.
"They won't do that. No, they won't blow it up."
epe-as/gw
©️ Agence France-Presse
Add to cart