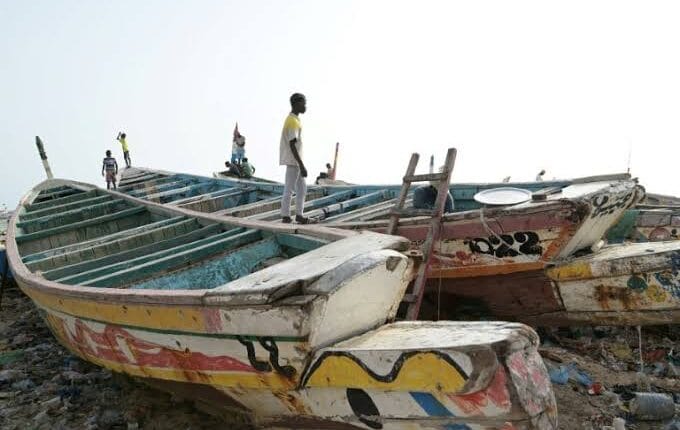 Senegal: Would-be migrants dream of Europe
The rumor spread through Mbour like an Atlantic wave unfurling on a beach.
Two boats laden with migrants that had left on the dangerous crossing to Spain's Canary Islands 1,500 kilometers (950 miles) away had gone missing.
But the grim tale failed to deter desperate Senegalese men thirsting for a new life in Europe.
"Spain… We all want to go there. If a boat leaves, I'll jump right in," said Abdou, in his twenties.
Sitting in a beachside shelter made of sheet metal, an oasis of calm in this thrumming port city 80 kilometers (50 miles) south of Dakar, his friends agreed.
"Whether you live here or die here, it's all the same," said one. "There's no work here, no money. The only solution is Spain."
The crossing to the Canaries is among the most perilous of all the routes that West African migrants take in their bid to reach the El Dorado of Europe.
The "Atlantic route" usually entails days of sailing across treacherous currents in large motorized open canoes known as pirogues.
The wooden vessels are often ancient and unseaworthy, overladen and lacking in water and other essentials.
Crossing attempts surged in late 2019 after Niger clamped down on migration across the Sahara while Europe stepped up patrols on its southern coast, crimping the trans-Mediterranean route.
According to the Spanish authorities, 7,213 people arriving on 150 boats landed in the Canaries in the first half of this year, compared to 8,853 during the same period in 2022.
A Spanish watchdog NGO, Caminando Fronteras, last week estimated that 951 migrants — five per day, on average — died trying to reach Spain in the first half of 2023.
Attempted crossings typically rise between June and September, when the winds are more favorable, said Moustapha Ndiaye, president of the fishermen's association in Mbour.
He estimated that 10 pirogues had set sail this month alone, leaving in the dark.
On Thursday, a boat with 41 migrants on board made it to the Spanish archipelago while another, with 71 onboard, was intercepted by the Senegalese navy.
Caminando Fronteras says there is no news of three boats with at least 300 migrants on board, two of which left the Mbour region late last month. The coastguard are still searching.
The Senegalese government has said 260 Senegalese "in distress… were rescued in Moroccan territorial waters" between June 28 and July 9. On Wednesday, 14 people died off Saint-Louis, Senegal's northernmost town, when their pirogue overturned.
Ndiaye said he had also heard "the rumor' of the missing vessels, but cautioned that many boats were simply late arriving at their destination.
"You never know what happens out at sea," he said.
He said pirogues were skippered either by fishermen who were familiar with the sea or by "businessmen" bent on maximizing profit. The latter smugglers counted on pocketing up to 20 million CFA francs ($34,000) for a successful trip.
Ndiaye and others pointed the finger at poverty as the big motivation for young people wanting to head to Europe, with a traditional employer in the region, small fishing boats, struggling under competition.
"The state signed agreements with European and Asian trawlers for industrial-scale fishing," Ndiaye said. "There's less fish and the young are leaving."
"Our young people need work," said Mouhamadou Barro, chairman of a commission on migration in the Mbour area.
"The police and gendarmes can't do anything to stop undercover migration."
The dreams of the young are fed by tales of those who successfully made the crossing, found work and saved money — enough, even, to build themselves a home back in Senegal.
Ousmane (name changed), a 29-year-old married man with a child, said he had tried to reach the Canaries in 2020 but their boat was stopped by the Spanish coastguard.
He said he would try another attempt as soon as he could, and leave without telling anyone.
"I don't have any other options," he said.
Abdou said: "If you're starving, you always end up finding something to eat somewhere."
Mame Elimane Ndoye, 69, said his eldest son had left on June 29, "the day of Tabaski", 'the local term for the Muslim festival of Eid el-Adha.
"He bought a big ram for his dad," to be sacrificed for the family feast, Ndoye recalled.
"He came to see me and told me he wanted to be with his friends over there. So I told him, 'I am the one who will be praying for you,' and this really boosted his morale."
"The trip was hard," Ndoye said by phone. "There was a lot of wind. They turned the engine off for three days. Then they arrived."
He added: "If by God's will he finds work, if he sends back money, it will be shared by everyone. We will be proud of him. I know him, he'll manage."
By Adrien MAROTTE
©️ Agence France-Presse