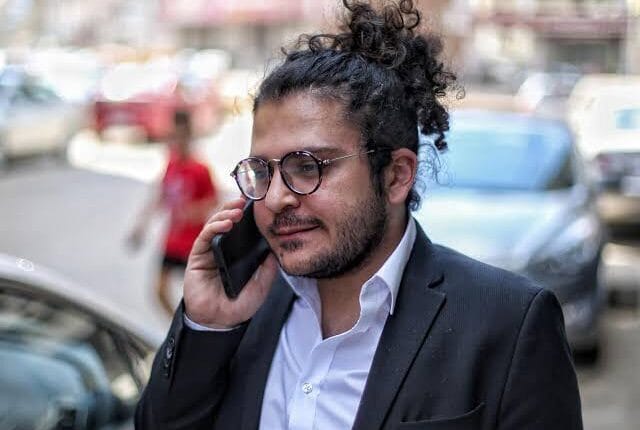 Egypt jails rights researcher Patrick Zaki for 3 years: NGO
An Egyptian court on Tuesday sentenced rights researcher Patrick Zaki to three years' prison for "spreading false news", a rights activist said, even as the government conducts a dialogue aiming to give the opposition a voice.
Human rights defender Hossam Bahgat, who runs the Egyptian Initiative for Personal Rights where Zaki worked, said no appeal is possible against the conviction over an article he wrote about religious freedom.
Zaki previously spent 22 months in pre-trial detention until December 2021, and was again taken into custody Tuesday after the court ruling in Mansoura, 130 kilometers (80 miles) north of Cairo.
His 2020 article recounted his experiences of discrimination as a member of the country's Coptic Christian minority, who number around 10-15 percent of Egypt's 105 million people.
The drawn-out case has triggered international condemnation, particularly in Italy where he was studying at Bologna University.
He was arrested in 2020, while returning to visit family, under charges of "spreading false news", "harming national security" and "incitement to overthrow the state", among others.
Amnesty International, in a statement released Tuesday in Italian, called the ruling "a scandalous verdict".
Rights defenders have said Zaki was beaten and tortured with electricity during his detention.
Thousands in Italy signed petitions calling for Zaki's release, and the country's senate voted in 2021 to grant him Italian citizenship.
Relations between Cairo and Rome had previously been strained by the 2016 killing of Italian PhD candidate Giulio Regeni in Egypt in 2016.
The University of Cambridge student was studying the history of trade unions, one of many subjects deemed sensitive by Egyptian authorities.
Regeni's dead body was found dumped on the outskirts of Cairo bearing signs of torture, days after he went missing on the fifth anniversary of the January 25 uprising.
His murder sparked alarm over academic freedom in Egypt.
Egypt ranks in the lowest group of the Academic Freedom Index, with at least a dozen researchers in prison for their work, according to the Association for the Freedom of Thought and Expression.
Last year, Egypt received criticism for the death of economist Ayman Hadhoud in state custody, after police denied "forcibly disappearing" him.
Cairo has come under frequent criticism for its human rights record, with tens of thousands of political prisoners — including journalists, lawyers, trade unionists and artists — behind bars, according to rights groups.
The government launched a "national dialogue" this year, hoping to bring in an opposition that has been decimated throughout a decade of repression since President Abdel Fattah al-Sisi deposed his predecessor, the late Mohamed Morsi, after popular protests.
The dialogue has been met with scepticism by human rights defenders, who worry the state is burnishing its image while enacting the same draconian policies.
Since April of last year, authorities have released 1,000 political prisoners amid much fanfare, but detained almost 3,000 more, Egyptian rights monitors said.
Rights lawyer Mahienour al-Massry condemned Tuesday's verdict, which came "despite propaganda of national dialogue".
Writing on Twitter, she warned that those participating "are a weapon in the hands of power, used to strike every dissident".
Also on Tuesday, rights lawyer Negad El Borai said he had quit the dialogue's board of trustees, after Zaki's sentencing rendered his presence "pointless".
Politician Khaled Dawood and lawyer Ahmed Ragheb also announced they were pulling out from the dialogue following Tuesday's sentencing.
Sisi has positioned himself a champion of religious freedom, regularly attending Christmas mass, appointing the country's first Coptic judge to head the constitutional court and emphasizing religious freedom in the country's national human rights strategy.
The latest "Human Rights Bulletin" released by the government this week hailed the legalization of 216 Christian places of worship.
However, the country's largest minority regularly complains of discrimination, particularly in the barriers to building and renovating churches.
©️ Agence France-Presse