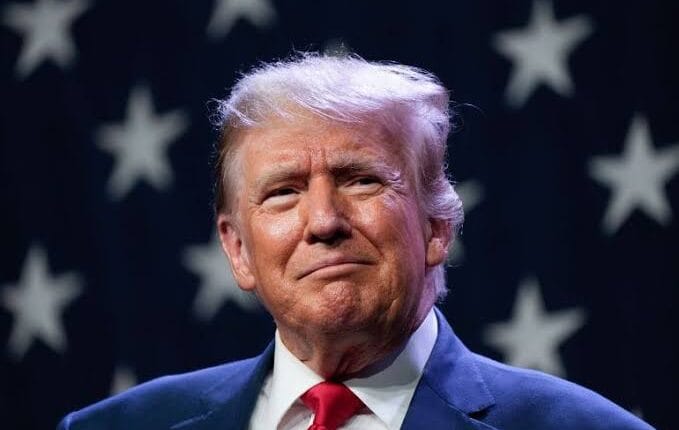 Trump shares stage with Republican rivals amid mounting legal woes
Former United States President Donald Trump took the stage alongside his Republican competitors in 2024 for the first time. Despite facing mounting legal challenges that pose a threat to his candidacy, Trump didn't hold back as he launched a fresh attack on his closest rival, Florida Governor Ron DeSantis.
Addressing a conservative gathering at the Lincoln Dinner event in Iowa, Trump advised attendees not to take a chance on DeSantis, who lags far behind in the polls despite high expectations for his campaign. Throughout his speech, Trump repeatedly referred to his rival as "DeSanctus" and highlighted his own record in office, including appointing three conservative judges to the Supreme Court and initiating the withdrawal of US troops from Afghanistan.
Trump emphasized that if he were not running, he would have no one coming after him, possibly alluding to the mounting legal charges he is currently facing. The former president was hit with new charges related to the alleged mishandling of classified documents just a day before his appearance at the Lincoln Dinner. Additionally, he is facing a potential indictment for attempting to change the outcome of the 2020 election.
Despite the legal cloud looming over him, Trump's dominance in the Republican field remains intact, with growing support among conservatives. His lead over DeSantis and the rest of the Republican contenders is significant, with a comfortable margin of around 30 points or more.
At the event, DeSantis and 10 other Republican attendees refrained from criticizing Trump and instead focused their attacks on President Joe Biden and the Democratic Party. However, not all speakers were met with approval from the crowd. Will Hurd, a former Texas congressman presenting himself as a moderate candidate, faced boos after accusing Trump of "running to stay out of prison."
It's worth noting that even if Trump were to be convicted of any of the charges, legally, he would still be allowed to seek the presidency and be elected. However, guilty verdicts could potentially impose significant barriers on his ability to campaign or perform his duties in office. The issue of a US president pardoning themselves of crimes remains a matter of uncertainty, with constitutional experts suggesting that such a situation might ultimately be resolved by the Supreme Court.
Trump has consistently denied any wrongdoing and has accused Biden's Justice Department of engaging in a politically motivated witch hunt against him. As the legal battles continue, the former president's support among conservatives shows no sign of waning, positioning him as a formidable force within the Republican Party as the 2024 election approaches.