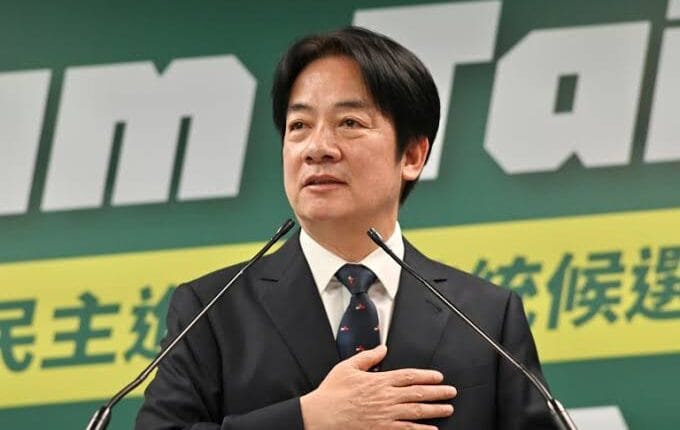 China vows 'forceful' response over Taiwan VP's US visit
China on Sunday vowed "resolute and forceful measures" over a weekend trip by Taiwan Vice President William Lai to the United States.
Lai — the front runner in Taiwan's presidential elections next year — is officially making only transit stops in the United States en route to and from Paraguay, where he will attend the inauguration of president-elect Santiago Pena.
Taiwan is claimed by China, which has vowed to take the democratic island one day — by force, if necessary — and ramped up political and military pressure against it.
"China is closely following the development of the situation and will take resolute and forceful measures to safeguard national sovereignty and territorial integrity," an unnamed spokesperson for the foreign ministry said in a statement published online.
Lai has been far more outspoken about independence than Taiwanese President Tsai Ing-wen, to whom Beijing is already hostile as she refuses to accept its view that Taiwan is a part of China.
The Harvard-educated doctor turned politician has previously described himself as a "pragmatic Taiwan independence worker", and reiterated this week when speaking with a local television channel that Taiwan was "not part of the People's Republic of China (PRC)".
"The Republic of China and PRC are not subordinate to each other," he said, using Taiwan's official name.
On landing in New York on Sunday, Lai said on Twitter, now rebranded as X: "Happy to arrive at the Big Apple, icon of liberty, democracy and opportunities," adding that he was greeted at the airport by representatives of the American Institute in Taiwan (AIT), the United States's de facto embassy for the island.
"Looking forward to seeing friends and attending transit programs in New York," he wrote.
He was greeted at his hotel by a crowd of supporters waving US and Taiwan flags, according to a video posted by Taiwan's Presidential Office.
There were also people waving a green-and-white flag, commonly used by supporters of the island's independence.
Lai is expected to continue to Paraguay, then stop in San Francisco on his way back.
He indicated in a tweet Sunday he would meet AIT chair Laura Rosenberger during his San Francisco stopover next week.
In the week leading up to Lai's departure, incursions by the Chinese military around Taiwan's waters and airspace — which have been happening near-daily in the past year — were larger than usual.
On Wednesday, the defense ministry said 33 Chinese warplanes and six vessels had been detected around the island in a 24-hour window.
"China is firmly opposed to any form of official exchanges between the US and Taiwan, is resolutely opposed to separatists seeking 'Taiwan independence' entering the US under any name and for any reason, and firmly opposed to any form of official contact between the US government and the Taiwanese side," China's foreign ministry spokesperson said.
"China expresses strong dissatisfaction with and strongly condemns the US insistence on arranging William Lai's 'transit' to the US," the spokesperson added, labelling Lai a "downright troublemaker".
©️ Agence France-Presse