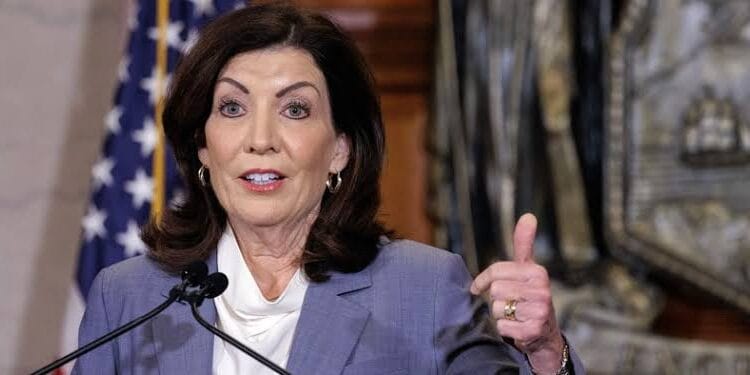 Governor Hochul plans meeting with federal officials to address migrant housing
Governor Kathy Hochul has scheduled a meeting with representatives from the U.S. Department of the Interior this Sunday, aiming to discuss potential locations for accommodating migrants on a temporary basis.
This announcement follows a joint inspection conducted earlier this week by state, city, and federal officials at Floyd Bennett Field in Brooklyn and Fort Wadsworth in Staten Island.
"In a statement released on Saturday afternoon, Hochul stated, "Since the arrival of asylum seekers in New York, we have been extending significant humanitarian aid, while New York City fulfills its legal responsibility to provide shelter." She expressed her commitment to continued financial assistance, provision of personnel and resources, and ongoing advocacy for federal support".
Furthermore, Governor Hochul revealed that additional personnel and resources from the New York National Guard will be deployed to asylum seeker facilities in Erie County. Recent incidents involving alleged sexual assaults on asylum seekers prompted Erie County Executive Mark Poloncarz to request Mayor Eric Adams to cease sending asylum seekers to the county. In response, Mayor Adams has agreed to temporarily halt further transportation of asylum seekers to Erie County, aiming to address security concerns.
"Governor Hochul also disclosed plans to utilize Creedmoor Psychiatric Center in Queens and Randall's Island along the East River to house asylum seekers in the near future. However, advocates have voiced concerns over limited public transportation accessibility at both these locations".
"City officials unveiled on Thursday a budget allocation of $12 billion by the end of the 2025 fiscal year, dedicated to providing housing, sustenance, and care for migrants".
"As of the most recent update on Thursday, out of nearly 100,000 migrants who arrived in the city since the previous spring, over 57,000 individuals remain under the city's care".