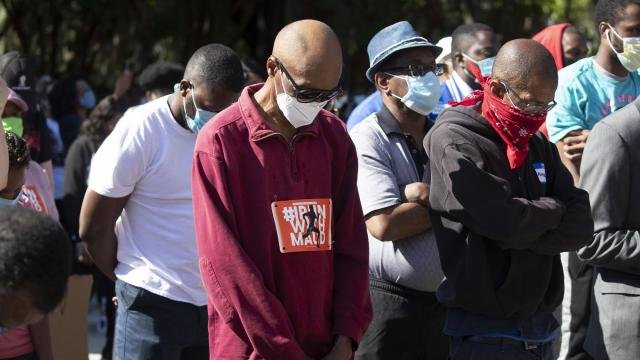 28 million Afro-American Christians condemn killing of Ahmaud Arbery, call appointment of Lead Prosecutor Joyette Holmes Window-Dressing
The National Black Church Initiative (NBCI), a coalition of 34,000 churches representing 27.7 million African Americans in collaboration with over 150,000 faith communities across the country have expressed no confidence in District Attorney Joyette Holmes because she was picked to appease the black community.
"We will not be trick into believing that all is well now a black woman is the lead prosecutor-so what. Her appointment will not make any difference for the soul of our dear brother Ahmaud Arbery who fought for his life to the end," said the NBCI President Rev. Anthony Evans.
According to NBCI press release, NBCI is displeased with the biased racial selection of prosecutors and has promised to challenge Georgia legal system.
"For Georgia Attorney General Chris Carr, he just another heartless white boy who does not care and who was put into an impossible position where three-not one, not two but three white racist incompetence white prosecutors refusing to uphold the law and arrest two pieces of white trash for murders. NBCI will be filing legal and ethical complaints against all three of them in the nearest future. We plan to work to get all three of them disbarred," the press release reads.
The Rev. Anthony Evans, President of the National Black Church Initiative said, " District Attorney Joyette Holmes termed Ahmaud Arbery's case as "another means of raising her legal profile, and not as a daughter of Africa who must fulfill her sacred obligation to honor our ancestors and seek –uadilifu—beyond justice."
"We will be watching her and the entire legal system. The entire legal is system on trial. Ahmaud Arbery last bit of strength was to fight back against the filthy white racist trash who insult the whole of humanity by attempting to calling themselves human," he further said.
NBCI further accused District Attorney Joyette Holmes of being a part of the Georgia racist system that kills blacks indiscriminately and at a will.
"She is just window dressing that needs to be put on display in Midtown Atlanta in one of the rich stores for decoration.
She is not our Savior. Our faith is in and remains to be in the Our Lord Jesus Christ," the press release further reads.
"How can anyone expect us to have faith in her or the legal system? Especially, given its racist historical past of red-neck Georgia? She is the fourth prosecutor in this case which speaking volumes to how difficult it is for a person of African descent to receive any form of justice in the Georgia legal system. The system is a joke and part of a modern-day Greek tragedy that continues to undermines the real humanity of its African American citizens," NBCI concluded.
The National Black Church Initiative (NBCI) is a coalition of 34,000 African American and Latino Churches working to eradicate racial disparities in healthcare, technology, education, housing, and the environment. NBCI's mission is to provide critical wellness information to all of its members, congregants, Churches and the public.